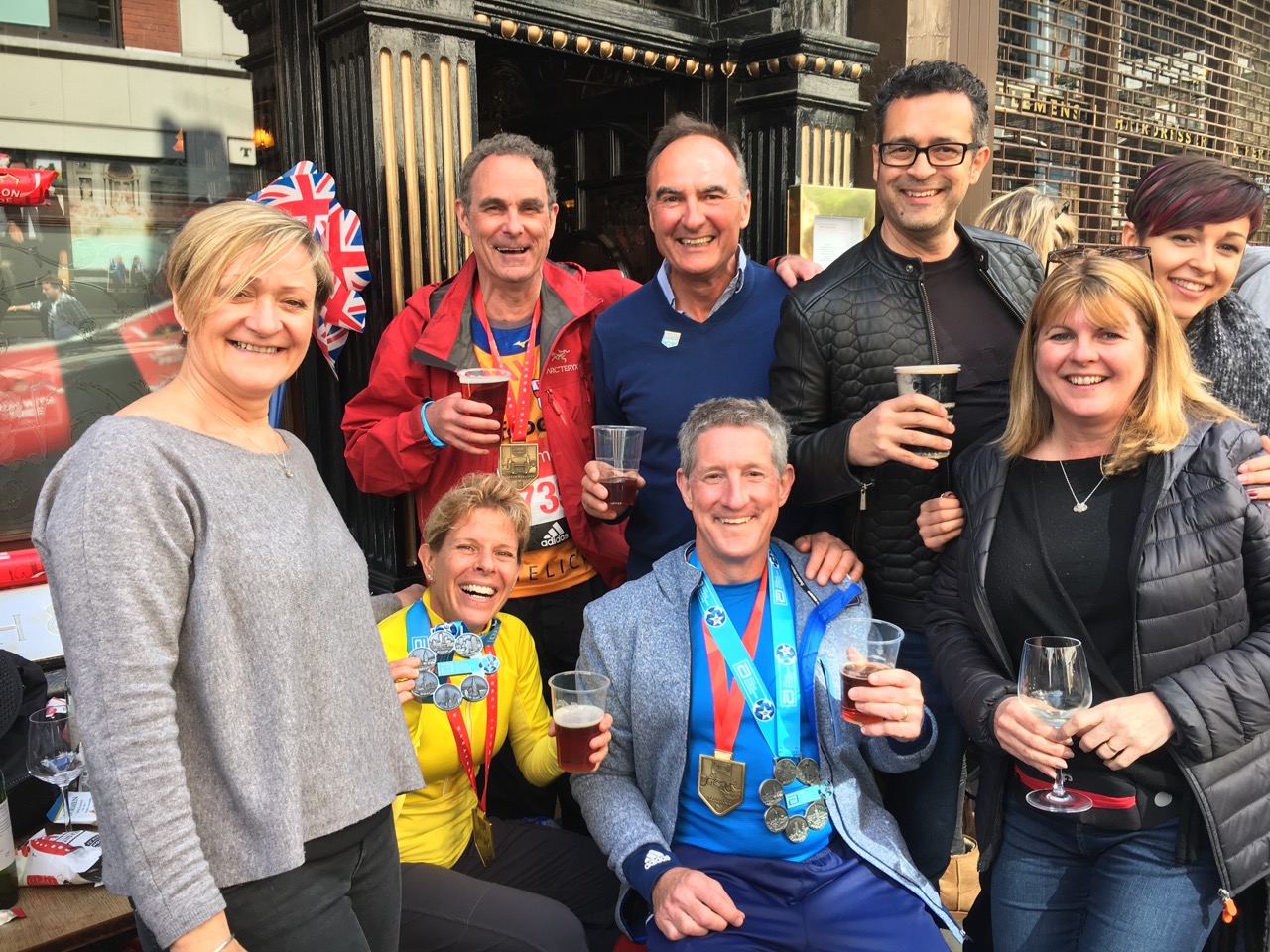 Raleigh Duo Completes All Six World Marathon Majors (then makes plans to run a marathon on all seven continents)
There are goals, and then there are goals. David Whitney and Helen Antipov are in-laws, live next door to each other, and don't shoot low on the goal spectrum.  After making a plan to complete all six world marathon majors in 2013, they completed their goal just this past April in London 2017. Running the Chicago, New York, Boston, London, Berlin, and Tokyo marathons is every type of accomplishment you can think of – physical, financial, time consuming, etc.
We weren't quite sure how they managed it all. Helen and David are fast, but not too focused on time, like to travel, but have families that make that hard sometimes, and also both have successful careers. We had to catch up with them to hear their stories and find out how they balanced it all. 
Let's start at the beginning. When did you decide to do all 6 majors?
I believe we became aware of the World Marathon Majors in 2013 while we were trying to qualify for the Boston Marathon.  At this time, we had just completed our first marathon (MCM 2012) and we were looking for some new goals.  A friend of ours had told us about the Boston Marathon and how you had to qualify to be able to gain acceptance  We decided this seemed like a good goal.  During our training we became somewhat obsessed with everything related to marathoning.  One evening we stumbled upon a stream of the Tokyo Marathon and watched the entire race.  While watching the race, we became aware that there are six major races that make up a competition for the elite runners.  After this race, we decided to watch all of the major marathons.   This required some commitment, particularly for London and Berlin.  To  watch the live stream of these races, we had to get up at 4AM.   Despite the early hour, we would meet and watch the entire race.  Watching the races on TV reminded us of how much fun the Marine Corps marathon was.  The crowds were amazing and the course through Washington DC was beautiful.   We agreed that one of the best ways to see a city was while running a marathon.   The streets are closed and you are able to run down these streets and see all of the history and architecture from a very unique perspective.  We decided it would be an amazing experience to run all of the major races and be able to tour all of these wonderful places.    
What races/years did you do them in?
We did qualify and gain entry into Boston in 2014, that was the first.  After that, we ran Chicago in 2014, Berlin in 2015, New York in 2016, Tokyo in 2017, and London 2017.
Did injuries and other life events come into play and how did you work around those?
In regards to injuries and life events, fate has been very kind to us.  Helen and I have suffered a few minor injuries along the way, but nothing major.  Helen has had some metatarsal issues with both feet. These have been painful but have not stopped her from running or training.  I would say London was her most painful race.   After New York, I probably did not rest long enough before starting to train for Tokyo.  I pulled a hamstring and then developed some muscle tightness that gave me quite a bit of knee pain.   This prevented me from doing any serious training for about six weeks.   As a result, I was not very well prepared for Tokyo.  I had to walk/run the last 10k. We both have had good fortune for other life events that did not affect travel or training. All of our living parents are still in good health.  My children are grown and out of the house.     
Did one race stand out above the others? 
We have wonderful memories of each of the races that we will never forget. The 2014 Boston race was special since it was the first race after the bombing.   We were blessed and honored to be accepted to run this race.   The crowds along the way gave us so much energy and instilled us with the feeling that together we are all Boston Strong.  We will never forget the feeling of running down Boylston Street. Chicago is a great race to run a PR.  It is also the only race that puts a beer in your hand as you walk down the finish area.  The order was medal, water, Gatorade, and then beer.   I will never forget how good that beer tasted.  Helen and I are in agreement that Berlin was our favorite race. The city is beautiful and the course takes you through a wonderful tour of what it is like to live in Berlin.  At the finish you run through the Brandenburg Gate. This gate was closed prior to the reunification of Germany and we were the 15th marathon able to run through the Gate.  You truly feel part of history as you finish. New York is another city that loves its marathon.  The run down 5th Avenue stands out in our minds. There is not another way to walk down the middle of 5th Avenue and see the wonders of New York City. Helen is from New York so this was very special for her. Tokyo was quite a cultural experience.   Out of 35,000 runners only about 500 are from the USA.  The layout of the course has several out and back routes. This allowed us to see the elite runners during the race. It was very exciting to see the leaders run past you on their way back as you run out.  It is the only race in the majors where you will see the leaders and feel like you are running the same race with them. I cannot think of a better way to experience London than through the marathon. The course takes you over Tower Bridge, through the downtown district, and along the Thames River.   You finish by passing Big Ben, Westminster Abbey and Buckingham Palace.   
Any one experience you'll never forget beside the accomplishment itself?
For Helen: We also ran Boston in 2016. During this race Helen met a friend  at about the ½ way mark who was not feeling well.   Helen slowed down to run with her to the finish. She sacrificed her own time, but will always remember the feeling of stopping to help a friend and run down Boylston Street to the finish. For David:  Running my PR in Chicago and qualifying for Boston 2016. I am not a super-fast runner and making the cutoff for the 2014 Boston on my first attempt was a roller coaster ride because I was so close to the cutoff entry time. Qualifying for Boston a second time was a difficult feat that I was really not sure I could accomplish.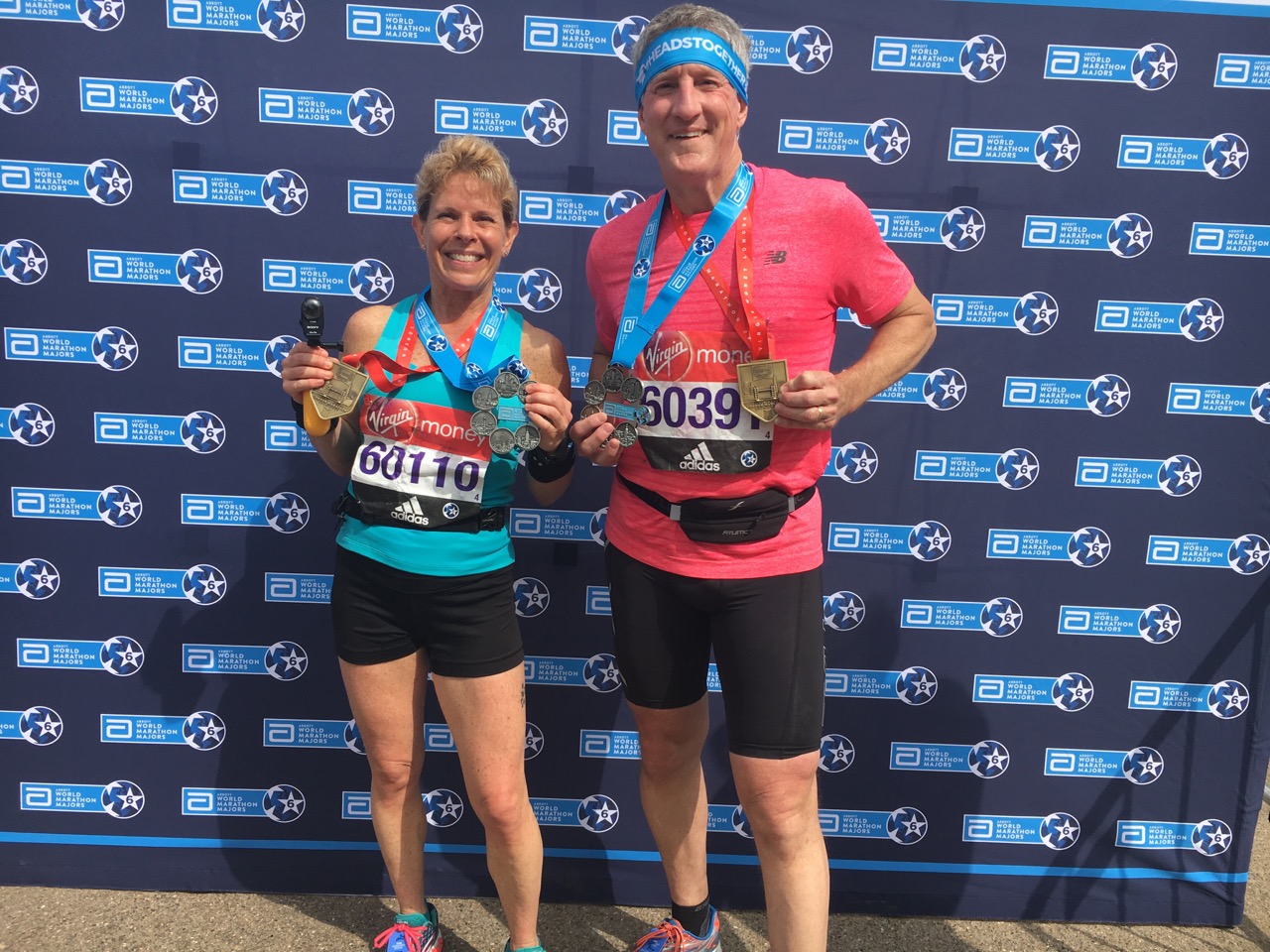 This is not just a physical accomplishment but this is a financial one too. How much do you estimate it cost with all the travel and hotels? 
I would estimate the total cost for all six marathons to be around $18,000 per person, with flights being the greatest expense. We would also offer that running these races offers a unique opportunity, since you are already there, to stay extra days in these areas and truly experience the culture and history.
How many beers did you drink after the 6th major? 
Helen and I agree, there is no better tasting beer than the beer after a marathon.   One of the great experiences of doing the majors was being able to sample some of the great beers of the world.   In Boston there was the 26.2 ale, in Chicago we got a Goose Island in our hand right after the run, and in Berlin drinking a full liter of good German Beer (see the added picture below).  In Japan, we learned that sake is brewed like beer.  This made it possible to drink both sake and beer on the same day without fear of the wicked beer-wine hangover.   In London, we got to experience the wonderful world of cask ale.  We developed quite an affection for these beers. So to answer your question, we have had a lot of beer!    
What's next?
At the same time Helen and I hatched our plan to run the majors, we also decided we should run the 7 continents.   Next up for us is the Galapagos Island marathon in the fall.  We hope to complete the 7 continents by 2019.  Also, could you give us a little info on your family and Helen's? We realize it takes a village to do something like this. Helen is my sister in law.  We live next door to each other.  It truly does take a village to accomplish this feat.  I could not have done this without the support and understanding of my wife, Rita.  She endures many a boring running/training conversation.   I'm fortunate that Rita also likes to travel and experience  new places.  When planning our marathon trips, we strive to make the trip not just a marathon but also a vacation and an opportunity to explore the culture and fabric of the places we visit.  Although Rita is not a runner, she is a firm believer in exercise and fitness.  Her passion is martial arts and MMA fighting.  Although we do not share the same exercise routines, rolling out of bed at 5:30 AM to go train is something we do together.  Helen is a particularly gifted runner for a female.  This allows us to train together.  It really helps to have a training partner that is as dedicated as yourself.  And as a father, it was a good time for me to do this since my children are grown and out of the house. I imagine these goals would be much more difficult for people with children still at home since I think it would be much more difficult to put in all of the training and travel time.    
 What did we miss?
The only other item we would like to share is running the six majors was more about the experience than running our best time.   If you are always worried about getting your next PR on every race, we think you can miss out on so many other things that makes running a marathon so memorable.   As I stated above, all of the cities have many sites to offer along the course.  To experience these things while you run down the middle of major streets that are closed is something you only get to experience while running a marathon.   Helen and I were in agreement that it was much more important to enjoy the races at a reasonable pace and stop along the way to take pictures and take in the sights and sounds along the way.  For us, it made running these races a richer and more memorable experience.   If you are not worried about your time, it allows you to be more aware of your fellow runners and the crowds.   It is truly amazing to us that so many people around the world will line the streets of a marathon and cheer on perfect strangers and offer such things as water, oranges, bananas, and gummy snacks.   How can you not have faith in humanity when you experience such kindness?!